British Blue Shorthair Cats and Kittens
Home
Real Fact: "A cat's nose is ridged with a unique pattern, just like a human fingerprint." 
Cats have been shown to remember up to 16 hours, while dogs struggle to recall beyond five minutes.
Greetings,
My name is Larisa. My family and I like British Blue cats for their great personality, ease adaptability to new situations, ability to travel, for being great with our family medium size Brittany dog and careful with children. We are registered and show in TICA (The International Cats Association).  This breed is one we truly adore. It is easy to care breed with no special needs and no big experience with cats.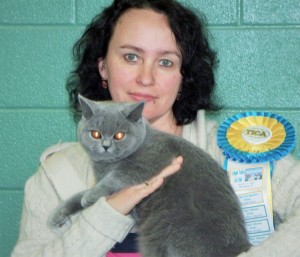 British cat loves to be close to humans without clinging; yet it is as devoted as a dog. This cat makes a quiet, even-tempered house companion. This breed shows no grumpiness or bad humor and holds no grudges. Both sexes generally get along fine with dogs and other house pets when proper introductions are made.
In short, this cat is quieter than the average house cat, yet it is more agile and active then the Persian cat, which is known for its passive, gentle nature. They are so lovable, beautiful, and plush that you can't resist to stoke their soft coat.
Our goal is to meet the standard of British Shorthair breed and raise TICA defined by British healthy good temperament. To do this, our British come from the best European lines and are free of both viral diseases and genetic (FeLV, FIV, HCM and PKD)
Our breeding cats and kittens share with us all the space of the house, as true members of our family and guarantee a perfect socialization.
Adaptability

  

5

 

Energy Level  

2

Shedding Level  

4

Affection Level  

4

Grooming

  

2

Social Needs  

3

Child Friendly  

4

Health Issues

  

2

Stranger Friendly  

2

Dog Friendly  

5

Intelligence

  

3

The slothful personality of British Blue cats is comparable with lazy plush bears.

 

British Blue cat's coat is comparable with the Koala Bear's plush coat

And beautiful copper eyes are comparable with owl's eyes.